* I've always loved classic, cars, owned quite a few, spent hours on the side of the road with a couple. I keep a very close eye on the Classic Car world and there's been a very interesting phenomenon recently - the boring old family saloons and early hatchbacks of the '70s and '80s have suddenly become very cool and very in demand........
This piece is about how the car your dad drove to work in the '70s is now incredibly cool. It may be the first car you remember him bringing home...with a smile on his face and the genial
announcement; "why don't you all go to the front door and see what's parked outside....?"
.
It's a nostalgia thing for a generation. There are few childhood memories as powerful as that first car, the smell of the vinyl (or if you were posh, leather). Proust went mad for biscuits, with me (and I suspect a lot of people my age) it's the smell of hot Son of a Gun sprayed on the vinyl roof of a Ford Capri Mk1......
Hello You! - A Very Special Escort Mk1 Mexico
*
You may have thought....
the Classic Car market was all about exotic Italian two-seaters, hand-built British grand-tourers or imposing German luxo-barges such as the magisterial Mercedes Benz 600, favoured transport for what we used to call 3rd World Dictators.
But for most retro-motoring fans, the most desirable cars right now are the often workaday family runabouts of the '70s and '80s, the cars they remember dad parking outside the front door when they were at an impressionable age.
They want that special car, the first family motor they can remember from trips to the beach or football matches in those golden days of youth.
They are willing to spend considerable amounts of money on the Fords, Fiats, Renaults and Triumphs that were once seen as boring or even, once they had been through several owners, old bangers.
And if you are lucky enough to have, say, a two-door Ford Escort or Fiat Bambino slumbering in a garage, barn or outhouse, you could easily convert it into thousands of pounds.
Recent trends in the Classic world have seen the kids who grew up in the 60's, 70's and 80's go in search of the motors that bring back fond memories. Now in middle age and with a bit of time and some spare cash on their hands, classic fans are going after the Ford Escorts and Capris, the Morris Minors, Minis, Triumphs, Citroens, Fiats and even Toyotas and Datsuns that were once seen on every suburban street in Ireland.
Each generation has its own triggers when it comes to nostalgia. And there are many forty or fifty-something Irish men (and women) who might go weak at the knees at the sight of a Ford Escort Mexico, a Triumph Toledo or even humbler fare such as the Morris Minor Traveller, all transports of delight for those of a certain age.
Nice Little Woodie - Morris Minor Traveller
They remember TV shows such as The Professionals, with Bodie and Doyle charging around '70s London streets in a gold Ford

Capri

3.0s. Or the metallic copper and silver Ford Granadas from The Sweeney.
And if we are honest, a lot of the appeal of hit retro TV dramas such as Heartbeat or Life On Mars is in the classic motors seen once again on the small screen, Ford Anglias (once the best-selling car in Ireland) or the ubiquitous Granadas, for so long the mark of a successful company man.
Life On Mars - A Cortina GXL
In Ireland (and the UK) Classic Cars are relatively cheap to buy, cheap to run, with car tax on vehicles over 30 years of age at an annual €56, plus special classic car insurance rates.
A thriving club and show scene, extensive parts availability and specialist mechanics and restorers make running what are very uncomplicated machines (at least when compared to today's computers-on-wheels) a relatively easy job.
The family runabouts of yesteryear and more desirable editions (such as the Golf GTi, Peugeot 205 GTi or Ford Fiesta XR2) are now commanding big prices and supply is not able to keep up with demand.
And after having a look at the classic market, I've worked out that the
Star Cars of the '70s & '80s most in demand are....
·
Ford Escort – The small family car that launched in 1968 quickly became a hit in Ireland. Special editions and rare rally versions now command huge money. The bare, rusty shell of a rare, Escort Mk1 Lotus sold recently in the UK for €79,000, or more than 22 times its original sticker price of €3,600 (a lot of money in 1968, even for only one of 855 hand-built Escorts with the famous Lotus twin-cam engine). A two-door shell, without engine or any other major parts, can be worth around €3,000.
And even relatively bog-standard Escort Mk1s are going for prices in the range of €5,000 to €10,000 at the moment.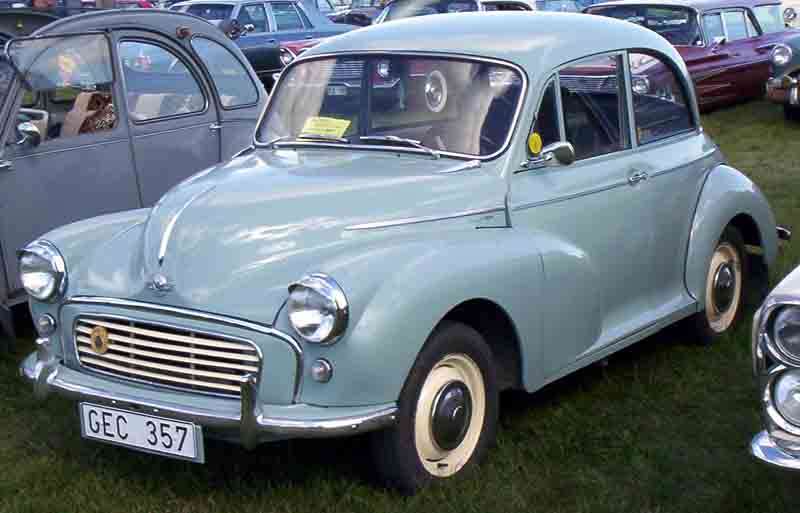 The once-humble Minor now has a huge following. There is currently a full restored, two-door mid-60's Minor for sale in Dublin for €7,500 and the Traveller Estate versions, with the wood-frame rear cabins, can fetch around €10,000 in first class condition. Minors are not fast but some can do up to 50mpg.
Want One
The curving, futuristic lines of this French beauty caused a sensation when it was first launched in 1955 and it was manufactured up to '75. And while they never sold big in Ireland (thanks partly to their very complicated, hydraulic suspension systems) they now have a very strong following here and in the UK. Fully restored examples can be had now in Ireland for between €8,000-€11,000.
·

*
Fiat 126, 125, 131 etc
Fiat 126 Bis - Every Family Had One
The cute little Bambino (the baby Fiat 500) has always had a strong following but examples of '70s saloons are now very much in demand, with the likes of the 125, 127 and 131, once seen on every street in Ireland, fetching prices from €4,000 upwards.
Yes, when your dad drove one, it broke down every five minute and your uncle used to always said the FIAT stood for "Fix It Again Tomorrow!"
And the bodies tended to dissolve in the rain like Alka Seltza - but they were great cars, when they ran, and if one has made it to 2014, it's bound to be a survivor, well cared for.
My own personal favourite, always loved them, drove one for years. It never let me down.
Always a driver's car, this light, 2-litre powered '70s classic represents the really smart move for any Irish retro-car fans looking to get a practical, every-day classic that will keep up with modern traffic and put a smile on your face. Built with Bavarian care, the fuel-injected models are surprisingly rapid. Good examples fetch around €7,000. And as with most other classics, they don't depreciate. In fact, a good 2002 bought today and looked after could bring a healthy profit if sold on in a few years time.
With classic cars holding or strongly increasing their value, there has rarely been a better time to get the bug. And as any retro-nut will tell you, there are few cheaper ways in life to go around with a big grin on your face.
************** Thanks for reading.