* Watching the Tour de France cycle race at the moment - and it got me thinking about Irish writer Samuel Beckett, his love of cycling and sport and the sporting connections of some other great Irish writers. So I decided to write this....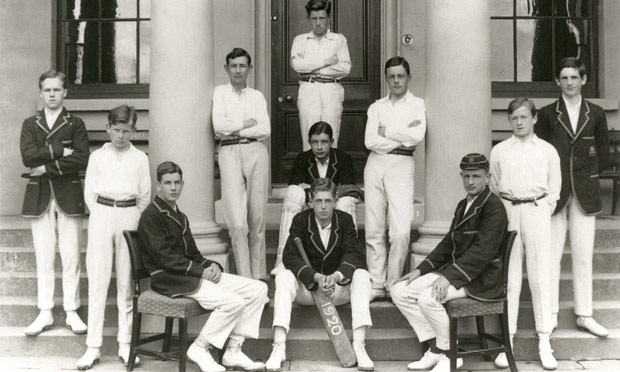 That's Young Sam Beckett - Second From Left
Sam Beckett was many things, great Irish writer, French Resistance Hero, personal school-run driver for the young André The Giant (a true story, as any Pub Bore like myself will tell you).
After two years of chats with Beckett - Andre Got A Bike
Beckett was also a sports maniac - a first class cricketer for Trinity College, a fearsome amateur boxer, rugby-player, motorcyle racer and life-long Irish rugby supporter (it was said that publishers and others who dealt with him knew better than to bother Beckett when Ireland were playing).
He loved bicycles, often mentioning them and using them as a motif in his works. And his best known play, Waiting For Godot, was apparently inspired (in part or name at least) by the Tour de France, and a hopeless old French pro-cyclist who was famous for always being last and always being late.
The literary scholar Hugh Kenner, in his essay "The Cartesian Centaur" says that Beckett once, when asked about the inspiration for Godot, talked about "a veteran racing cyclist, bald, a 'stayer,' recurrent placeman in town-to-town and national championships, Christian name elusive, surname Godeau, pronounced, of course, no differently from Godot."
This Godeau was always the last to finish, sometimes trailing in hours behind the rest of the field, forcing frustrated race officials to miss their evening meals as the sun went down and they waited. And waited. And waited.
Another story is that one day while walking through the streets of Paris Beckett stopped to ask members of a large crowd what they were doing. The weary spectators
replied, "We are waiting for Godot," explaining that he was the oldest cyclist in the Tour de France, and had not yet passed by.
The Original Godot
That story may be a little too on-the-nose. But there really was a French pro-cyclist called Roger Godeau and (depending on who you believe) Beckett really did spend a pointless afternoon waiting for him once, while watching the famous Paris-Roubaix road race.
The story gets even more sauce if you believe that - when Waiting For Godot had it's premier in Paris in 1953 - theatre goers who also knew their pro-cycling "got" the little joke about always waiting for this Godot character (and a few even laughed out loud - not a reaction normally associated with the famously downbeat masterpiece).
Godeau's nickname was "Popeye" (fans reckoned he looked a little like the cartoon sailor) and I often wonder if he was aware of the inspiration he provided to one of the greatest literary figures of the 20th Century?
And having done a little research into his record, it seems Roger did actually have some wins to his name and may not have been as hopeless as the Beckett story suggests. But why let that ruin a good tale?
"We've got a horse for ya!" - Bacon & Freud
Another unique Irish artist of the 20th Century - the painter Francis Bacon - was a fiend for the horses - a hopeless gambler who knew the bookies of Soho very well and dropped many fortunes on beaten dockets. His appetite for roulette tables and race-horses was legendary - as was that of his best friend and fellow artist Lucian Freud.
Bacon's devotion to horse racing may be explained by his father's occupation - he was a noted race horse trainer on the famous Curragh in Kildare.
The two artists would bounce around the dives of Soho in the '50s and '60s, poring over a battered copy of the Racing Post and gambling away every penny they had. One bookie - a man called Alfie McLean - eventually agreed to take paintings from the two when they couldn't pay their debts. By the time Alfie died in 2006, he had 23 paintings by Freud (including many portraits of himself and his family) and around 8 Francis Bacon canvasses. Which were later auctioned off for just under £100m.
Brendan Behan loved the GAA and one of his most famous fashion accessories was a Rosette supporting the footballers of Co Down (for non GAA fans, the supporters of a team will often shout "Up Kerry!" or "Up Dublin!" depending on their county allegiance. Behan was a Dubliner who couldn't resist the surreal sentiments of a rosette that contradictorily proclaimed "Up Down!".)
Sometime soon - I'll explain how James Joyce's Ulysses is actually a searing indictment of anti-Semitism in the Gaelic Athletic Association.
But for now, we'll leave it there.
** Footnote - the reason why I know about Beckett & Godeau is because I was once sat next to a Beckett scholar at a dinner party. In the spirit of joining in, I mentioned hearing this story and he basically looked at me (and my lack of a great college education) as some random idiot who was talking through his ass. And then voiced his opinion of me loudly.
So - instead of braining him with a wine-bottle - I went home and spent about two weeks researching the whole thing, so as to get my facts right for the next time I ran into Prof. J Smug-Condescending-Bastard.
I still haven't met the man again. But I come from a long line of patient, vengeful men.
And if you are reading this, Mr Professor, I'll be out there in the long grass. Waiting for you. You bastard.
**** hey! Thanks for reading!*******