* Hi - regular readers might know that I am based in London at the moment - still doing/available for work in Ireland, but enjoying one of the great cities of the world, especially now that the summer has arrived. And London does summer very differently to Ireland - it's an actual season, with lots of sun and very little chance of having your kids battered senseless by hailstones while you cower in a park in Dublin or Galway.
ANYHOW! We have a lot of visitors who come to stay with us (popular, natch) and they always ask me about things they can do in London that are a little different from the usual touristy activities.
So here - in a bid to educate others but also have a handy one-stop guide for annoying visitors who "forgot" to get a six-pack of Tayto coming through duty-free - is my off-the-top-of-my-head guide to doing summertime in London differently....
"Sarf of the River at this time of night? You're 'aving a laff, aintcha!?"


LONDON! City of a thousand gourmet burger bars, botoxed Russian billionaires and prices so steep, you'll want to exit the Euro!
It's a fantastic city, and great in the summertime, if you can avoid the tourist hordes (don't go to Oxford Street and NEVER stand on the left on the Underground's escalators)
But what about the London that only smug blow-ins and locals (if you can find one, seriously, endangered species) know about?
I love exploring the city - and I love its more hidden spots, where you can see London from a different angle, get a real sense of a madly hectic, ever evolving city where people fondly remember the last wave of immigrants who used to live round 'ere before the current wave of immigrants. Seriously, just look at Brixton - posh-ish suburb in the '30s, Irish enclave in the fifties, Afro-Caribbean in the '70s and '80s and now full of South & Central Americans, hipsters and Africans (also a lot of Aussies, but that's more the Clapham end so don't go up there).
So in no particular order, and if you are gonna find yourself in London this summer I would recommend;
* Pop Brixton
Yes, yes, it's a "pop-up market" in a very hipsterish part of town - but don't let that put you off - this brand new addition to Brixton's thriving street-life is a collection of re-purposed shipping containers and cleverly designed walkways, outside seaingt areas and public spaces that is REALLY buzzing at the moment and offers lots of colour, good food, drink and great atmosphere - really worth putting at the top of your list if you are coming over the summer - more info
Here
Also Brixton is also worth visiting for the great old reliable......
* The Brixton Market
Would seriously recommend this place if you are down in South London - just take the Victoria Line South to the very end, come out, turn left then left again down Electric Avenue (say hello to Eddy Grant) and you will find a series of huge, indoor arcades stuffed with weird shops and some of the best eating and drinking you will find in London. It's very trendy, but still very "local" and always surprises - take a few hours and wander around - great food, loads of outdoor seating and lots of colour.
Brixton's great for a wander - but being gentrified at an alarming rate - so get down there fast.
* Visit Eltham Palace
Bizarrely located in a pretty nondescript, dowdy part of Suburban East London, this Medieval royal palace, a childhood home to Henry VIII - has an amazing secret. The fabulously wealthy and glam society couple Stephen & Ginny Courtauld bought what was a derelict site in the 1930s and built a stunning art deco country house within the ancient moated grounds - grafting it onto the remains of the Medieval Great Hall.
Entrance Hall At Eltham Palace - Art Deco Glam
It's a stunning example of British Art Deco that was only their home for a brief few years before and during WWII (when the couple and guests would sit on the lawn on a hill high over the city, looking at the Luftwaffe pounding away at London).
It's now run by English Heritage and may seem like a bit of a trip out of the city centre - but it is gorgeous (with great gardens) and can be done in a morning or afternoon.
More info
Visit Eltham Palace
* Franks Bar - Peckham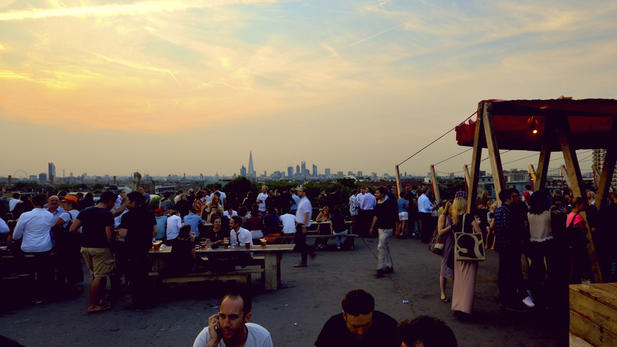 Frank's Some - View
Hardly a secret to those in the know in London - but this bar and street food place on the top floor of a very dingy multi-story carpark in Peckham (another hipster hotspot) is well worth a visit for good food, drinks and vast panoramic views over London. Try and get there early-ish if it's a weekend and the sun is out because it gets RAMMED! Also - the toilets are a bit music-festival. So not for the squeamish. Their site is
Here
* Have Lunch In A Toilet
Latest craze amongst novelty-obsessed diners in London? Having drinks, dinner etc in a former Victorian Public Convenience.
"Excuse me, where are the toilet...oh, right!"
Seriously, there are now about 15 mostly high-end cocktail bars and cafes in porcelain palaces that once only had menu options Number 1 and Number 2.
The Attendant Cafe (geddit?) up on Foley Street in W1 offers high end coffee and sandwiches in a urinal based setting - really, you sit in former urinals.
These are all underground and all magnificent tributes to the love lavished on public toilets by the Victorians.
And "Story" down by Tower Bridge is a Michelin starred eatery in another disused Victorian WC.
See more about
Attendant
- on their website.
* The Grenadier Pub, Belgrave Sq
Down a mews-lined laneway in Belgrave, right in the heart of the embassy district, this is a small, lovely old London pub - a real star of the pub scene - if you find yourself in this neck of the woods and fancy a lovely pint of beer in a very unusual, quiet setting, check it out. Hard to find - would recommend you downlond the CityMapper app
https://citymapper.com/
- a great, free way to navigate your way around the city.
* Gordon's Wine Bar - Villiers Street near Charing Cross
A real London Institution - a subterranean wine-bar open for 125 years - in the winter, a real cave, in the summer, a large, long outdoor seating area that's very popular with Londoners, post-work crowd etc - it's down near Charing Cross Stn, in a very busy part of London - and it can get VERY busy at the weekends, but definitely worth popping in for a glass of vino if you are in the area. And if it is too jammed - a tip, go to the nearby Sainsburys, get some drinks and go to the small park in front of
Gordon's just by the river - you can have a little alcoholic picnic in a lovely setting for little money (but just keep the bottles discreet, strictly speaking, you are not supposed to be drinking there - but everybody does).
* The Cutty Sark - Greenwich.
Greenwich is a bit hard to get to - and very packed with tourists - but go to the market for a bite to eat (great Lebanese falafel stall there) and then walk down the river path in front of the Royal Hospital to the Cutty Sark pub - pub itself is so-so - but the long row of tables right on the river bank give you a great view of the river and the city - the nearby Trafalgar Inn is also worth a visit.
* The Festival Hall On The SouthBank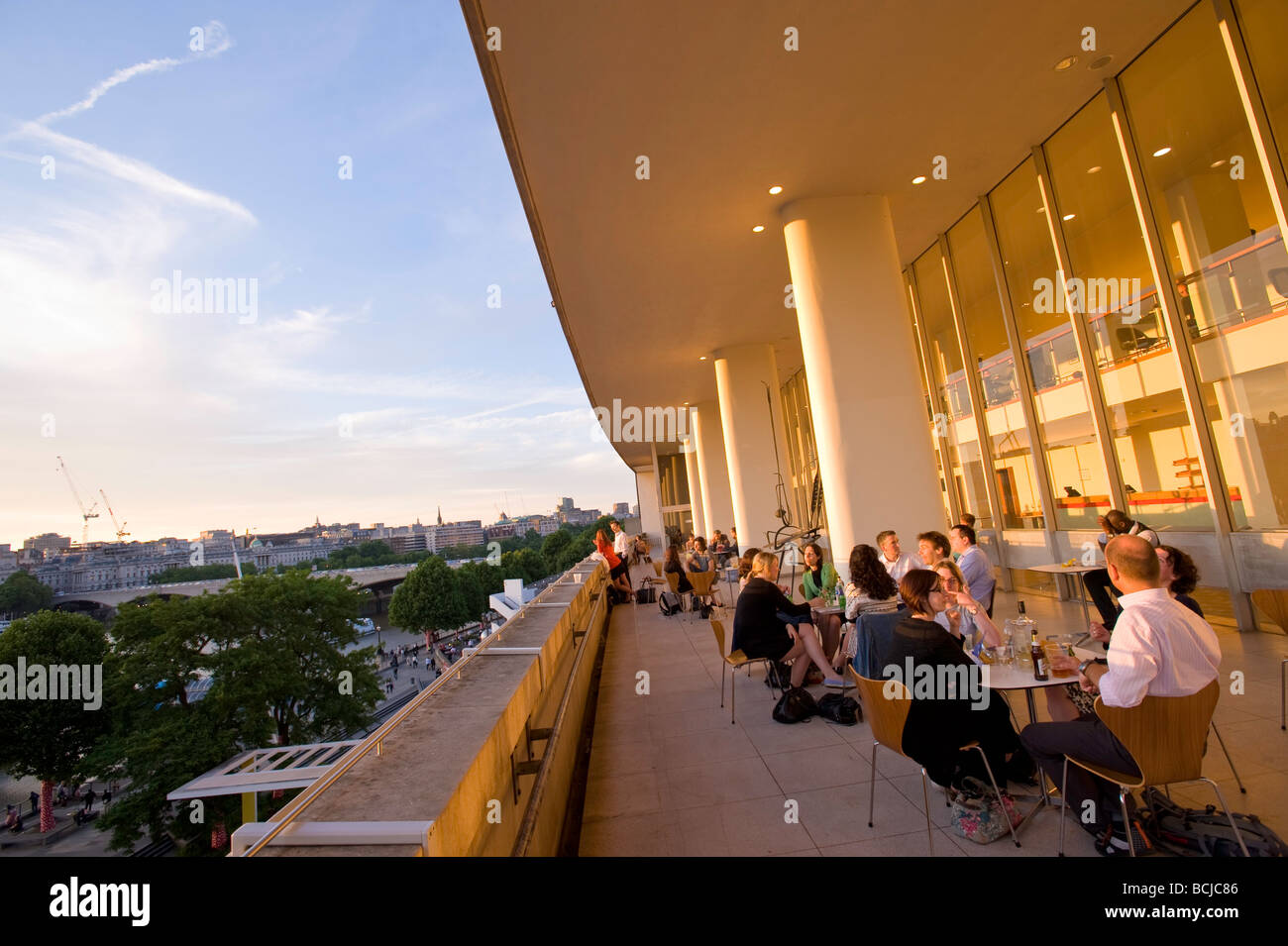 Right - here's a good one - if you are down by the South Bank - the London Eye - in front of the Festival Hall main entrance there is LOADS of seating, right up over the river with views of the Houses of Parliament etc - and you can bring your own drink (or get drinks from the bar outside - or cheaper pints from the festival hall bar inside) - I LOVE this place on Fri afternoons - you see lots of colour and lots of people and can watch the boats going up and down the river and a Waterloo Sunset.
There is also an amazing terrace upstairs in the festival hall (see pic) which you can access for the price of a pint in the bar - gets busy at weekends - and they won't let you smoke up there - same goes for the nearby roof terrace (just look for the big yellow sign) so they can feck off.
* Brockwell Lido
Go for a swim in the city - this is near Brixton - a lovely, 50m outdoor pool that's very popular with Locals and visitors alike in the summer - again, tends to get jammed at sunny weekends so get there early - great food as well and a lovely cafe.
There are Lidos all over London - well worth checking out to see if there is one near where you are - the Serpentine Lake is one I plan to visit this summer.
* Hampstead
Yes, very posh and very expensive - but get the Tube up there and wander around - you can walk on the heath (good views over the city) visit the Lido or just hang in the cafes - very fashionable crowds and great place to have a goo at the quality.
* The French House, Soho
Soho is changing fast - and not for the better if you believe the anti-gentrification/keep Soho raw crowd. It's very busy but I would recommend the French House for drinks and the Bar Italia for coffee - to get a sense of the Old Soho that is very, very quickly disappearing.
* Artusi - Peckham
If you love your food - this relatively recent arrival on the scene is now reckoned to be one of the best in London - it's in a lovely part of Peckham (!) Bellenden Road, and there's a great pub called the Montpellier around the corner - book ahead though, it's jammers. Link -
Artusi
If you can't get into Artusi - check out the Begging Bowl Thai resturant nearby - cheap-ish and reckoned to be one of the best in South London.
* AND FINALLY - THE WILTON MUSIC HALL - Tower Hamlets/East End
A rare survivor in a very unglam part of town - this is a mid-19th century music hall that - through a weird quirk of fate - survived being knocked down.
There are great music events on here all week and it's got fantastic history and surroundings - real, old London, down by the docks - see more
Here
* I realise I am only scratching the surface here - but hopefully there are a few suggestions you'll think worth following up - thanks for reading!