* A chance encounter with an old friend recently threw up a phrase that meant a lot to us but would make no sense to anybody else in the London pub where we were enjoying a pint; "Who's Taking The Horse To France?"
So this VERY IRISH SPECIFIC piece is inspired by that question - and is a tour of the Greatest Irish TV ads of all time. So pardon the nostalgia over-load, I'm prone to them. But it's just a bit of fun.

And apologies for the poor quality of some of the video clips - had to do some archeology on YouTube.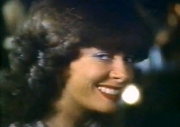 The Way She Might Look At You
*
Those who doubt the power of TV advertising should ask themselves just one, equine-related question; "Who's taking the horse to France?"
If you grew up watching telly in Ireland in the '90s, that apparently obscure reference should instantly transport you back to a kitchen full of Burberry checks, simmering sexual tension and buttery spuds.
One of a long line of memorable Kerrygold ads, this 1994 mini-drama, featuring a rugged Irish farmer and a classy châtelaine, over from France to buy a horse, gave us thirty seconds of the kind of sexual sophistication we didn't normally associate with range cookers.
An earlier Kerrygold ad had a saucy French trout fisherman called André, sidling up to an Irish B&B owner in her kitchen and asking "Allo? Zere is something I can 'elp?" It was a wonder she didn't drop the frying pan.
Here's a slightly dodgy video clip of the ad in question;
Our best TV advertising in the '80s and '90s often portrayed an aspirational, confident Ireland that would not arrive in reality until the era of the Celtic Tiger.
The ad men behind the Kerrygold brand were particularly adept at mixing the traditional with the modern, with strong, silent farmers and flame-haired colleens offering windswept Celtic allure and Hollandaise sauce to continental visitors.
Their muddy riding boots were hardly hitting the floor in the hall before they were ready to throw caution to the wind with a big knob of butter.

Last Tango in Borris.
TV ads tended to have a much bigger impact when most homes only had a handfull of TV stations.
And you can probably date most Irish people by asking them to remember their favourite. For many of us, hearing Dusty Springfield sing "Goin' Back" instantly brings to mind a returning young emigrant, a country train station and a drive through the darkening fields towards a brightly lit farmhouse and mammy.
Younger folk will remember a young Michael Fassbender, swimming the Atlantic to New York, to say sorry to a friend. The soundtrack was Mic Christopher's "Heyday" and the product was, of course, Guinness.
The great British advertising guru, David Ogilvy (seen as an inspiration for the Madison Avenue Mad Men of the acclaimed TV drama), once said TV advertising was all about impact.
"You have only 30 seconds in a TV commercial," said Ogilvy.
"If you grab attention in the first frame with a visual surprise, you stand a better chance of holding the viewer. People screen out a lot of commercials because they open with something dull. When you advertise fire-extinguishers, open with the fire."
Today's TV ads tend to move at a quicker pace as they jostle to grab our attention in a very crowded and diverse marketplace (you are as likely to see them on your PC or iPad as on TV).
Only time will tell if today's ads can hope to have the kind of lasting impact that the classic ones of the 80s and '90s had for that generation.
And if you had to draw up a top ten list of the Greatest Irish TV Ads of All Time – it would have to include;
10 – Esat Digifone – The Guy from The Bar.



This simple but very effective ad played around with perceptions – the girl sees a gorgeous hunk at the bar, she slips him his number and he calls her up, only to bray "Howya, it's me – the guy from the bar!" in the most comically toe-curling midlands accent you'll ever hear.
9 - Maxol - Free A Nipper
The early '80s were tough enough for this country without Brendan Grace – as Bottler – popping up on our TV screens every half-hour to shout "Free A Nipper – Roight?" But as a catchphrase (for Maxol Petrol Stations), it is as deeply embedded in '80s nostalgia as Ray Houghton's goal in Stuttgart and Charles J Haughey's "We are living away beyond our means".
Better known for the catchphrase "Tá siad ag Teacht" (the only line of dialogue) – This legendary ad was first aired in 1977 and featured a pub full of Guinness drinkers, patiently waiting for a currach to deliver a keg of porter. In 1999, a poll in Marketing Magazine voted it the greatest Irish advertisement of the 20
th
century.
I love the sound design on this one - spectacular when you consider the period - the tick tock of the clock and the call of curlews ...
7 Harp Larger -

Sally

O

'

Brien
"You could fry an egg on the stones here, if you had an egg" - this 1980 classic, with
Sally
O
'
Brien
and the way she might look at you, had a huge impact on our popular culture. But there was a minor diplomatic incident when it turned out that "
Sally
O
'
Brien
" was, Padraig Pearse preserve us!, English actress Viki Michelle, who later starred in the sit-com Allo, Allo!
6 Penneys – Got A Whole Lot of Things For Christmas



Frist heard in the '80s and revived in the mid-90s, this simple jingle became almost a Christmas Carol for a generation of Irish TV viewers. Impossible to forget.
5 - Bord Na Mona – Marino Waltz
First aired in 1986 - a shining example of a perfect marriage of a tune and a TV ad. You just cannot hear the opening bars of the lovely Marino Waltz without picturing a roaring fire, a deep leather sofa and toes warming up by the flames.
4 – ESB – Going Back
The young emigrant steps off the train at a country station, his dad is there to bring him home to a brightly lit farmhouse and mammy's cooking. A real-tear jerker from 1988 that still resonates with that generation, many of whom had to emigrate themselves. Trivia fact - the young emigrant is Alan Hughes, now of TV3 and Christmas Panto fame.
3 News of The World – Breakfast With Bertie
"I never thought I'd end up here!" said former Taoiseach Bertie Ahern, from a food cupboard, in this ad for the now defunct News of The World Sunday newspaper. Classy, from the weirdo buffon who screwed our fair nation.

What you wouldn't give for the chance to slam a feckin frying pan into that gob.
A nation spluttered out its tea.
2 Guinness - Anticipation
Better known as The Dancing Man – this mould-breaking advert featuring rubber-limbed Irish actor Joe McKinney became an instant, worldwide hit on its début in 1994. The inspired choice of a Perez Prado track – forever known as " The Da-da-dah Song" - heralded a golden era for Guinness advertising.
1 Guinness – White Christmas
Christmas ads are always the ones we remember best. And this brilliant 2003 spot for the famous stout, featuring snow falling on deserted places around Ireland on Christmas eve, evoked James Joyce's classic Christmas story The Dead, finishing with snow forming a creamy white head on the famous black gates of the brewery in Dublin.
It's the Dublin Christmas we all dream of. And of course, is ridiculously idealised.
Still, lovely stuff.

ENDS