* This is a shortish blog about what sounds like (at least) a pretty esoteric subject - 18th Cent. Cameo making. But it is about an adopted son of Dublin, the great Scottish Cameo maker James Tassie, a self-made genius of the miniature portrait. It's about a time before cameras, smart-phones and selfies. If you wanted an intimate portrait of a lover, a friend, a hero or yourself, you went to a cameo maker and asked him to carve (or paint) you one that could be carried and cherished.
James Tassie - Genius In Miniature
James Tassie - With Eye Glass & Cameo
In the mid to late 18th century, a golden era for portraiture, with masters such as the peerless Joshua Reynolds creating images of the great and the good on canvass, there was also a huge craze for more intimate portraits, painted or carved on cameos. These were intimate, often personal and sometimes illicit images of those you admired, loved or lusted after. The best were carved on precious stones and worn as jewellry (rings, brooches and earrings) or carried in a pocket, perhaps taken out at a quiet moment or propped up beside your bed at night.
The origin of word itself is interesting, it strictly means
"carved precious stone with two layers of colors,", from the Old French
camaieu
and directly from Medieval Latin
cammaeus.
However, it may have ultimately come, via the Byzantines, from the Arabic
qamaa'il
"flower buds," or Persian
chumahan
"agate." Cameos had been very popular in ancient Rome when miniature portraits of the gods, gladiators, emperors and popular courtesans were carved on precious stone, in glass or on sea-shells and ivory.
And while the likes of Reynolds painted on broad canvasses, sometimes life size or even grander, masters of the Cameo such as the extraordinary James Tassie worked in miniature, striving to capture the essence of the subject in portraits often no bigger than a thumb-print.
The Young Joshua Reynolds - A Striking Selfie
James Tassie was born in July, 1735 in the village of Pollokshaws in the Clyde Valley in Scotland and grew up at a time when the Clyde region and Glasgow in particular, was entering a period of unprecedented prosperity.
His family were said to be humble, but as a boy who showed promise with his hands, he was apprenticed to a stone-mason. And there he might have stayed, carving columns and window lintels, if it hadn't been for a rare outing to Glasgow and a chance viewing of the collection of paintings brought together by the printers Robert and Andrew Foulis.
Tassie moved to Glasgow and managed to get a place in the art academy which had been started by the brothers Foulis. The poor boy from Pollokshaws became one of the most distinguished pupils of the school, which was one of the very first in Britain and offered talented young men and education in the European tradition of art and design.
In 1763, Tassie, almost certainly on a scholarship from the Foulis brothers, moved to Dublin (then a very prosperous and fashionable city, the Second City of the British Empire) and a centre for the jewellery trade.
There he worked as assistant to Dr Henry Quin, Professor of Physics in the city's School of Physics and learnt from him the art of manufacturing imitations of antique cameos and intaglios (recessed images carved into metal, glass or other media), an ancient Roman skill which Dr Quin had revived through his own experiments.
Together they devised a white enamel composition especially suited for gemstone replicas. Quin & Tassie found ways to rival the works of the great cameo makers of antiquity, reviving skills and arts that had been lost for centuries, since the fall of the Roman Empire.
Tassie Cameo
Tassie's portrait medallions, his best-known original works, would include many eminent contemporaries among their subjects. They were modelled from life in wax and cast in white paste. Fashionable Dubliners almost queued around the block to have their cameos made. Tassie lived in Nassau street, close to Grafton Street and overlooking Trinity College. Dr Quin, also sometimes president of the Irish College of Physicians, lived on St Stephen's Green.
Tassie only stayed in Dublin for three years. But it was in Ireland that he developed his own techniques, a fiendishly technical, painstaking and complex way of melting sheets of glass over tiny wax or plaster-cast molds, to create cameos of incredible detail and accomplishment.
James Tassie Cameo of the Architect Robert Adam
After three years in Dublin, Tassie moved on to London where he lived for the rest of his life.
He was hugely successful, but he kept the secret of the formula developed in Dublin with Dr Quin a closely guarded secret. The two men had found a way to use vitreous paste - glass fired in high-temperature kilns - to model their portraits.
Tassie would model his portrait from the life if possible, though he did work from other artist's portraits. He used red wax and two or three modelling tools. Sittings took only two-and-a-half hours. Tassie's earliest portraits were head and shoulders, which were then mounted on an oval glass, backed by coloured paper. As Tassie's skill increased, he learnt to cast the whole medallion in vitreous paste, so that the head and body were of the same material as the background.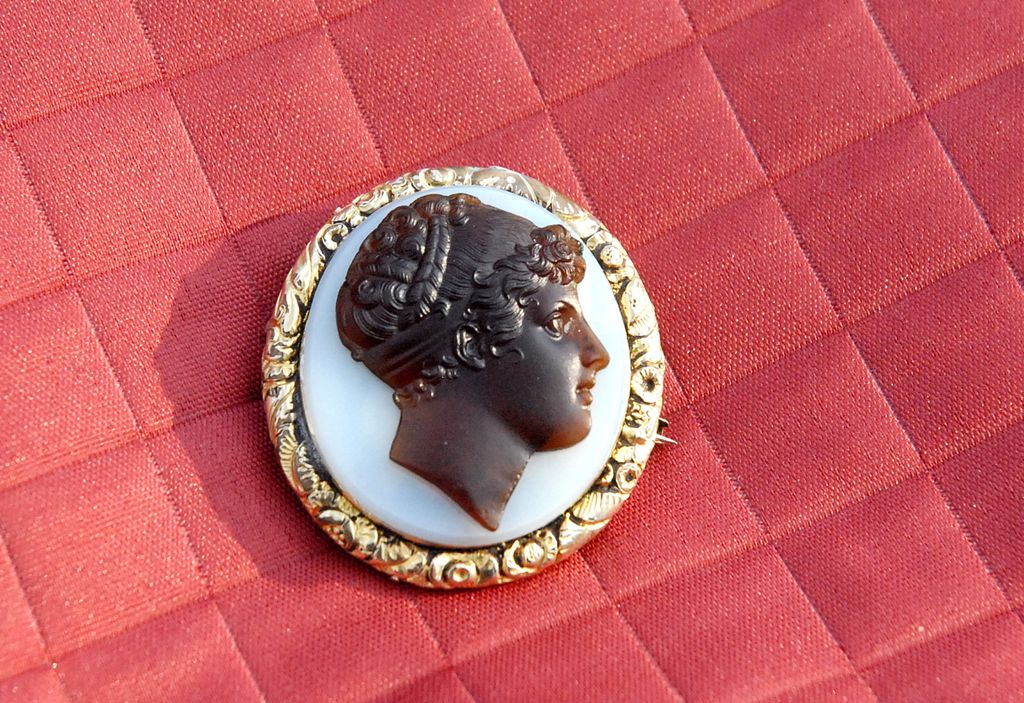 James Tassie Antique Cameo Brooch with Gold Ormolu Setting
Tassie did travel to Scotland on a regular basis to do cameos of the great and good of Glasgow & Edinburgh, a notice in the Glasgow Courier on September 20, 1791, announced: ''Mr Tassie of Leicesterfields, London, and Dr D Allan, of Edinburgh, have been for some days here, upon a visit to their friends. The excellence of these Artists in modelling from life, and in painting with truth and character, has been for many years known and acknowledged over Europe, and does honour to this part of the country where they received their birth and earliest education.''
He is estimated to have made some 500 portrait medallions during his lifetime - and perhaps his greatest coup was to make one for Catherine the Great of Russia, in 1781 (he was paid around £2,300 for an order of cameos, a significant sum at the time).
Tassie also copied some of the great medallions & cameos of antiquity. All of the great collections of Europe were open to him. And here we have some scandal, Tassies copies were so good, they were often sold as original Roman cameos by unscrupulous dealers.
Tassie died in 1799, a
successful
, much admired and rewarded artist. He had come a long way from his days as a young stonemasons apprentice in the Clyde Valley
.
ENDS